Discover more from Darian Writes
Darian Razdar writes, reads, wonders, wanders and shares pieces with a community of readers and friends.
Painting with the Camera, Sounding with the Pen
The camera is not just for taking pictures, nor is the pen solely for writing letters.
I am writing this dispatch from seat 11C on the train from Syracuse, NY to Toronto.
Today marks the end of a 3-week long travel project that brought me back to the landscapes of my childhood — the rolling hills of Central New York, sticky Syracuse summer streets, a mall that was a world, a lake that was a sea, a Manhattan mostly unrecognizable.
The travel project also led me toward new horizons, notably the Gesamtkunstwerk ('total work of art') of Mildred's Lane where I joined the budding Queer Ecologies Research Collective around the invocation LAND / BODY / EROS (hopefully I'll write a dispatch solely about Mildred's Lane sometime soon).
For now, I want to relay an exercise in (expanded) transcreation — a term I recently learned, referring to creative acts of translation, which we may expand from linguistic translation to translating between and beyond existing art forms. I want to show you some paintings I captured with my camera and some sounds I wrote with my pen.
In this vein, I am reminded of painter David Hockney's practice of "drawing with the camera" — a way of engaging with photographic technology that, for the artist, presented a creative leap that overcomes photography's tendency toward realism.
***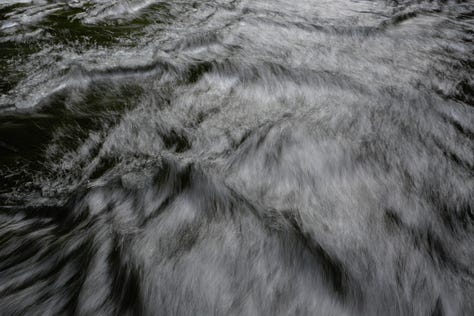 ***
Is this what independence taught me?
Leaves broken into shadow.
The sound of a bird I don't yet know.
A couple hidden but not hiding beneath a maple, I notice.
The air of wet July expands between my bones like the greenest grass growing between these alabaster bricks
its blades sliced in twos.
***
"There is a war in the valley"
***
a pit a pock a pile a pill a till a turn an urn a spur a spoon a wound a mound a monde a mine a dime a ditch a dimple a dole a mole a mile a mill a kill a quail a quiver a sliver a clover a claw a clue a coal a cut a bump a bore a bowl a bellow a scar
on the mountain face
***
***
Nameless hills:
No — not mountain
No — not mesa
No — not mound
The corollary for a not-name is a sound.
A child, I sang the hills
sent earth swelling toward the sky between simple refrains
Roll over the edges of my beloved
Run under the doorways of my home
Wrap me in the sweet smell of maple
And don't wake me until you're gone.
Adolescent, I sang the hills
that same refrain repeated and remained
muttering hymns for a nameless place
making muse of the major key
until at once cracked the larynx and soon bemoaned
the silence of the hillside
the disappearance of that final tome.
***
***
Roving fast against /// landscape
Blur, burn, turn
Shades of green /// innumerable
Evolutionary ingenuity to see
The rush of hills, wild edges /// trace
Curves the horizon vague /// wave
Echoes in their rifts
As beg the painters
their palettes /// clean
The monument of this arborous valley
An idea held /// sunder
the viscosity of its own /// speed
***
"As if you could kill time without injuring eternity."
***